What is GEDmatch? It's a web site with various utilities that can help genealogists and adoptees build, confirm and expand their family trees.
The "GED" part of the name refers to GEDCOM, the industry standard for exchanging genealogical data. For example, if you build your family tree with proprietary software such as Family Tree Maker, you can export a GEDCOM file that can be read by other programs.
The term "match" applies, because these utilities help you find other users who are DNA matches to you or have ancestors in their family trees that match ancestors in your tree.
GEDmatch Requirements
To participate in this site you must have results from at least one of these three autosomal DNA tests:
Once you get your results, you can download your raw data from the testing company site and import it into this site.
Get More DNA Matches
Since the site accepts data from all three autosomal DNA tests, those who have only taken one or two of the tests will almost certainly discover additional matches. That's because SOME users of each test you missed will have uploaded their data here.
NOTE: The majority of DNA testers will NOT be here. So anyone wishing to exhaust every possibility of finding close matches should still do all three autosomal tests. This is particularly true for adoptees.
Analyze Your DNA
This site offers a number of ways to analyze your DNA. See the following list: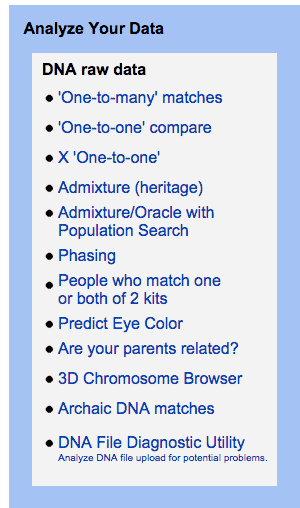 The "one-to-many" option will compare your DNA with that of everyone else on the site to see if you have enough DNA in common to be related.
These free utilities also tackle complex tasks such as X chromosome analysis and phasing your results to separate your maternal and paternal contributions.
Although each autosomal test provides its own ethnic ancestry report, you can re-examine your ethnicity here using independent admixture tools.
Other utilities are more lighthearted, like predicting your eye color from your DNA or seeing if you're related to some ancient human specimens.
Compare Family Trees
Besides comparing DNA, you can also compare paper trails. If you upload a GEDCOM file for yourself or another person, you can compare that tree to about 20,000 other trees on the site. 
For most of the trees with matches you will get a contact name and email address for the person who submitted the tree.
Tier 1 Utilities
While the basic utilities are free, the following features are considered "Tier 1."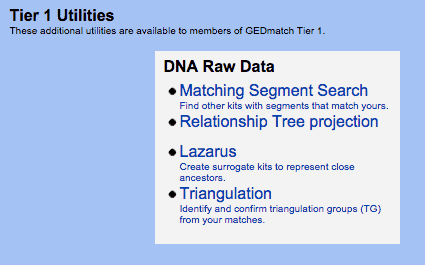 To gain access to these features you simply donate to the site. Each $10 donation earns you one month of Tier 1 access.
Great Customization Features
Many GEDmatch utilities allow you to fine tune your search. When comparing DNA, for example, you can control the minimum threshold to be considered a match. 
When comparing family trees, you can set how closely the names, dates and places must match to show up in your report.
Expect Some Challenges
Many of these utilities are leading edge programs that require enormous amounts of computing power. Expect some processes to take a long time to complete. 
In addition the site is rapidly growing in popularity. At times, certain utilities or the entire site may go down for awhile. This is life on the "bleeding edge." Your donations can help the site founders build up capacity and develop new utilities.
Go to GEDmatch.com now to try it out.
Getting Help
The site itself is bare-bones utilitarian in design. For explanations and answers you need to look elsewhere. One good option is the GEDmatch.com User Group on Facebook.