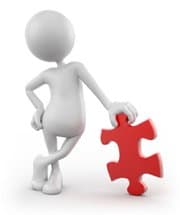 This DNA Answers section provides a growing list of frequently asked questions about DNA testing and my answers to those questions. It's essentially a DNA FAQ.
I get DNA questions from adoptees, genealogists, and a surprising number of other people who are uncertain of their biological relationship to a parent, sibling, or other person.
Often, DNA testing can provide the missing piece to whatever mystery is puzzling you.
This is a growing section and content will build steadily over time…so check back periodically.
You can also subscribe to my blog through an RSS reader.
DNA Answers to Common Questions
Clicking on a question below will take you directly to my answer.
---
Can I Find Birth Parents Through DNA Testing?
Which Books on DNA Testing Do You Recommend?
Tell Me About The DNA Detective TV Series
How Do I Safely Buy a DNA Test Online?
How Can I Get Free DNA Testing?
Are There Any DNA Test Sales Right Now?
Which DNA Tests are Best for Specific Functions?
Can You Summarize Your DNA Answers on One Page?
Why is the Family Finder Test So Important?
Should I Do the 23andMe DNA Test?
What's a Good DNA Ancestry Test?
Can DNA Testing Find My Lost Relatives?
How Do I Begin Researching My Tree?
What Do You Think of the New Helix DNA Test?
---
My Guide to DNA Testing
Before you dive into the details of this web site, I suggest you read this Guide to DNA Testing.
I describe and compare the major DNA test types. Then I explain their purposes, strengths and limitations in some unique tables that you will not find anywhere else.
This Guide provides the high level overview you need to put the various DNA tests in perspective.
You can buy the Kindle version for just $3.99 at Amazon.com.
My Recommended DNA Testing Companies
The following testing companies are widely recommended by genetic genealogy experts. In addition to reading the contents of my site I suggest you learn more directly from the companies that do the testing.
Guest Posts
Occasionally, I share guest posts written by others. I think you may find them interesting. Some of them venture outside my personal sphere of knowledge, so I cannot completely confirm their content. Look below and click those you would like to read.
Why Test Older Relatives First?