My DNA Answers
to Common Questions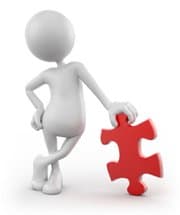 My name is Richard Hill and DNA Testing Adviser.com is my web site. This DNA Answers section provides a growing list of frequently asked questions about DNA testing and my answers to those questions. It's essentially a DNA FAQ.
I get DNA questions from adoptees, genealogists, and a surprising number of other people who are uncertain of their biological relationship to a parent, sibling, or other person. Often, DNA testing can provide the missing piece to whatever mystery is puzzling you.
This is a new section and content will build steadily over time…so check back periodically. You can also subscribe to my blog through the box at the left. Just choose your preferred RSS reader and you will know when I add new pages anywhere on this site.
Questions come to me in various ways. Many arrive through my Feedback Form, where I provide free answers to individual questions. My speaking engagements provide another opportunity for people to ask questions personally.
NOTE: My DNA Answers address commonly asked questions. However, details that could identify a specific person or family are always omitted to maintain privacy.
Clicking on a question below will take you directly to my answer.


---
Can DNA Testing Help Me Find Birth Parents?

What's a Good DNA Ancestry Test?


---
My Free Guide to DNA Testing
Before you dive into the details of this web site, I suggest you download my free Guide.
I describe and compare the major DNA test types. Then I explain their purposes, strengths and limitations in a unique table that you will not find anywhere else.
This Guide provides the high level overview you need to put the various DNA tests in perspective.
Just click the title below to reach the download page.
How to Identify Ancestors and Confirm Relationships through DNA Testing


How To Get Additional Answers from This Site
Check the menu above at the left for more in-depth information on specific topics.
What's New is a listing of my most recent blogs. Some announce new pages. Others report on new DNA tests and other items of interest to genealogists and adoptees.
Paternity Test is the place to confirm a parent-child relationship when both parties are available for testing.
Family Trees covers genetic genealogy.
Adoption Search explains how adoptees like me are discovering their biological families with DNA testing.
Relationship Testing is about confirming a suspected genetic relationship between two people such as siblings and half siblings.
Your Health introduces the new science of Personal Genomics.
Ethnic Ancestry explores the tests that can tie you to current population groups around the world.
Ancient Ancestry helps you find your place in human history.
The remaining menu buttons are pretty much self explanatory. Please explore my entire site. All content is provided free and without obligation.
Enjoy the journey.
Richard Hill
DNA Testing Adviser